Overview
In this module, you can choose the overall General Settings for CommBox's Agent Workspace system.
General

Language - the language which will be displayed in all externally displayed product which is seen by customers
Time Zone - defines the time zone applied to all times displayed on communications
Default Country Code - sets the desired country code for outgoing calls and SMS
Display Dashboard for the user - toggle on/off to authorize the user to access the Agent Workspace Dashboard.
Company Logo - you can attach here an image file with the company logo you wish to be displayed on the communications with customers
Inbox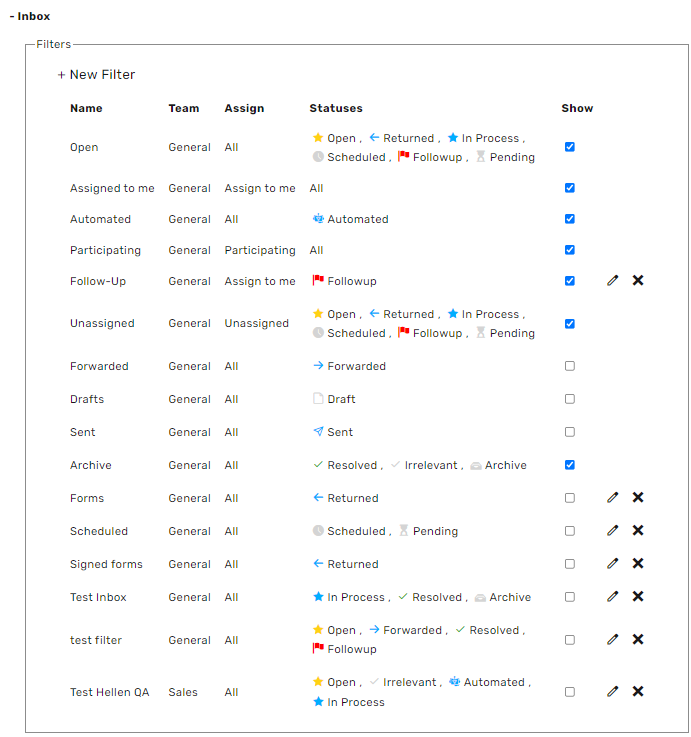 Filters - you can select here which filters will be visible to users of the Agent Workspace. You can select which filters are available or not by toggling the checkbox on the right-hand side of the window.
Quantity of conversations per page in Inbox - set the amount of conversations displayed on each page of the Inbox.
Overrun in the agent's response time (in seconds) - this sets the amount of time before an unanswered conversation will be flagged to the agent's name in the Control Panel Agent's Table.
Show Full Date format - toggle on/off the date displayed on the time stamps of the messages sent/received in conversation
Default Snooze (next day) - if this is toggled to on, pressing this will snooze all notifications for 24 hours.
Knowledge Base

Knowledge base external search provider - connection to an external knowledge base. Please contact your CSM for further assistance
Connection string of knowledge base external search provider - Contact your CSM for further assistance.
Advanced

Google Analytics account - you can connect a Google Analytics account to this feature.
---
Was this article helpful?
---
What's Next