Share feedback
Thanks for sharing your feedback!
Launcher
Appearance

Design/Logo Icon selection - you can choose one of our icons to be displayed inside the launcher.
Button background color - choose the background color of your launcher
Button text - you can add text to your launch alongside your icon or without an icon
Logo

Mobile button logo - uploading an icon that will replace the chat icon on the mobile device
Desktop button image - uploading an icon that will replace the chat icon on the desktop/laptop computer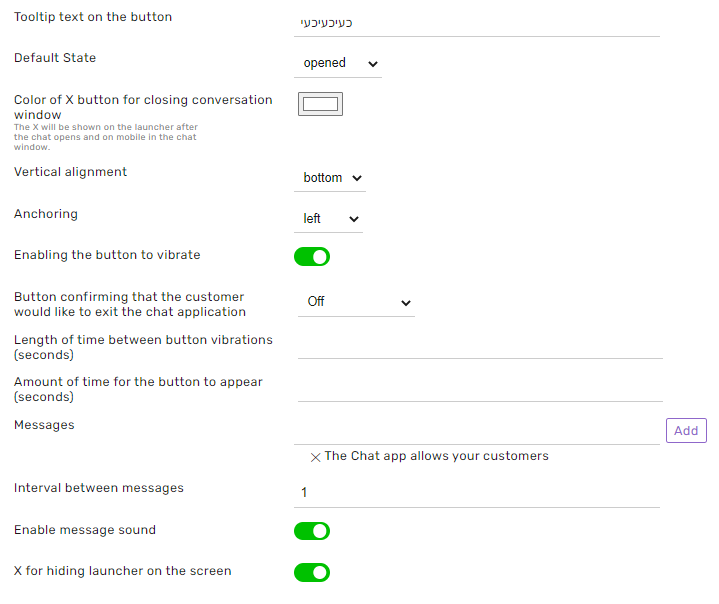 Tooltip text on the button - the text that will appear when hovering over the button.
Default State
Open - a chat window at the entrance of the website
Pre-button - the button displayed and clicking on it will open the window
Hidden - the button will be hidden and will pop up after X amount of time which will be set in the clause below (by embedding a BY.Show code on the client's website)
Color of the X button for closing the conversation windows - usable when the opening button is set to hidden - The X will be shown on the launcher after the chat opens and on mobile in the chat window.
Vertical alignment
Button - the button located at the bottom of the screen
Middle button - the button located in the middle of the screen
Anchoring
Right - button on the right-hand side of the screen
Left - button on the left-hand side of the screen
Amount of time for the button to appear (seconds) - in the case of Default State, we've set it up so that the button would be hidden, and this setting will determine that after a few seconds, the chat window will appear.
Enabling the button to vibrate - setting the button to vibrate on-screen allows the user to locate the chat button on the website more easily.
Button confirming that the customer would like to exit the chat application - after the customer disconnects from the chat, they will be asked, Are you sure you wish to exit the chat?
Length of time between button vibrations (seconds) - setting the frequency of the vibrations
Messages - floating messages are written to invite the user to enter the chat
Interval between messages - Determines the time allowed to elapse between the displayed messages that emerge.
Enable messages sound - Toggle on/off the notification sound, which will be triggered when a message arrives
X for hiding launcher on the screen - when this setting is on, an X icon will appear on the Launcher with text/image launcher that will enable the user to hide the launcher from the screen.
---
Was this article helpful?
---
What's Next