Creating Authentication Templates
---
Share feedback
Thanks for sharing your feedback!
Overview
In May 2023, Meta introduced new guidelines for authentication message templates with limitations on content and functionality. These new templates do not support media or emojis, links, and parameters with more than 15 characters. Meta recommends that businesses create new authentication templates to ensure customers can continue sending messages.
This guide covers authentication templates only. See the Marketing and Utilities Templates guide to learn how to create those templates.
Click here to learn more about Meta's guidelines for authentication templates.
Procedure
At the CommBox console, navigate to Settings and select WhatsApp from the Communication Channels section.

Select the General Settings tab from the top, followed by the WhatsApp Massage Template extendable menu.


A list of existing templates of your account will open, displaying the Template custom category as chosen by you, the WhatsApp category, and the name of the template.

Click the Add New Template button at the top right corner of the screen.


At the new dialog box, enter the information for submission:


a. Select the WhatsApp Authentication category and the WABA (business) account.
Note: This is a mandatory selection with related charges by WhatsApp. WhatsApp may reject your template or assign a different category to your submissions. For example, when offering additional services to an existing customer, your business may consider it a Utility template, while WhatsApp may count it as Marketing.

b. You may accept WhatsApp decisions in advance by keeping the box checked (optional and recommended).

c. Choose a name for your template (Lowercase English letters only).

d. Enter a business-related name for this template that will help indicate the content of the template (for example, End-of-the-year Sale).

e. Select the message's language(s).

Click Next.

In the following dialog box, choose between two template code delivery types:
(a) Autofill (b) Copy code.
Click here to learn more about these options.


Add the message 'For your security, do not share this code.' to your authentication process (optional) by checking the top box.


Add expiration notice 'This code expires in X minutes' by checking the 2nd box (optional).

If you selected the Autofill option at the top, enter the Package name and the App signature hash of your Android App.

Note: One-tap buttons are the preferred solution as they offer the best user experience. However, one-tap buttons are currently only supported on Android.

Click Add at the bottom of the dial box. The information will be forwarded to META pending their approval.
Our API, Inbox, Compose, and Campaigns support sending authentication messages.
Compose Example: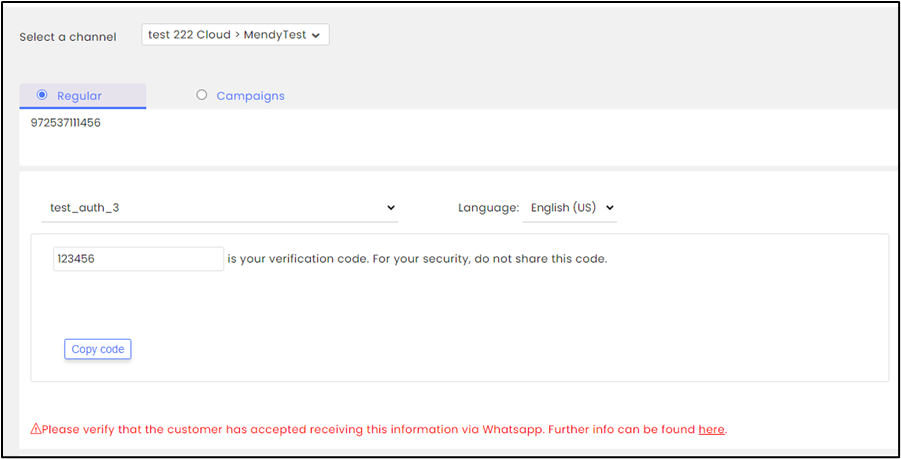 ---
Was this article helpful?
---
What's Next