Share feedback
Thanks for sharing your feedback!
AI Assistant – An Automated Conversation Summary Generator - Beta Phase
Overview
The Automated Conversation Summary Generator is the first in a series of AI-driven capabilities based on Open AI's Chat GPT, which helps contact center agents save time by automatically generating summaries of resolved customer conversations.
When the agent changes the conversation's status to "Resolved", the CommBox AI assistant automatically generates a conversation summary in a new Summary tab in the conversation composer. If, for any reason, the conversation status changes back to "Open", a new summary will be republished once the conversion is set again to "Resolved".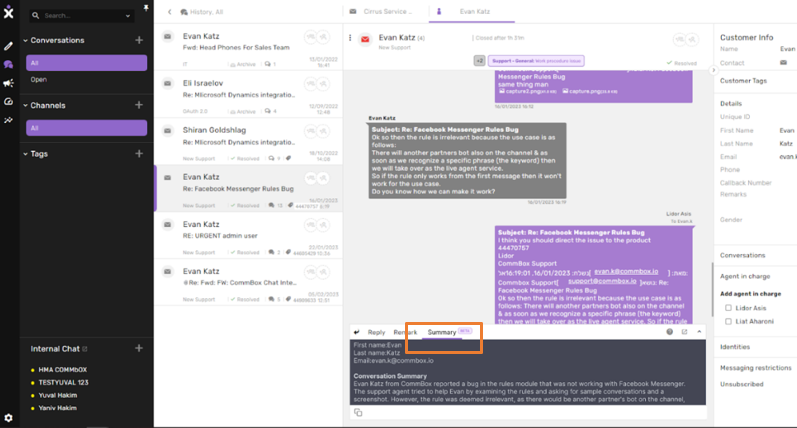 Activation of the AI Assistant
The activation is done at both the Module level and the desired communication channels.
Navigate to Settings > AI Assistant

Read and approve the Disclaimer.

Select the desired communication channels (WhatsApp and/or Chat).


Navigate again to Settings > Chat module or WhatsApp Module.

Select the desired Chat / WhatsApp Channel.

At the AI Assistant section of the customization options for that channel, click the activation button.

Save the setting changes.

If applicable, repeat steps 4-7 for the 2nd channel (Chat or WhatsApp).
---
Was this article helpful?
---
What's Next